Reserve Your Spot
Nov 5th - Dec 19th, 2019
Yoga for Core & Pelvic Health
Tues
9:45am (7 weeks)
Thurs
5:45pm (7 weeks)
Sat
8:45am (5 weeks)


Yoga for Core & Pelvic Health is a specialized program offered by Body Mind Fitness at our studio in London (Lambeth), Ontario. Providing you with strategies so you can take part in the activities you love the most while managing you Core & Pelvic Health. Exploring yoga poses, strength movements, breath Work and myofascial release to create lasting, functional strength.

Pelvic Floor and Core Dysfunction does not only effect those who are pregnant and had children. It can effect women and men on account of age, athleticism and obesity among other factors. Pelvic Floor and Core Dysfunction is very common, but not normal. Check out Dominique's Blog to learn more about my journey with Pelvic Health Dysfunction and how I developed a passion for helping students develop their True Core 4 Muscles to work optimally.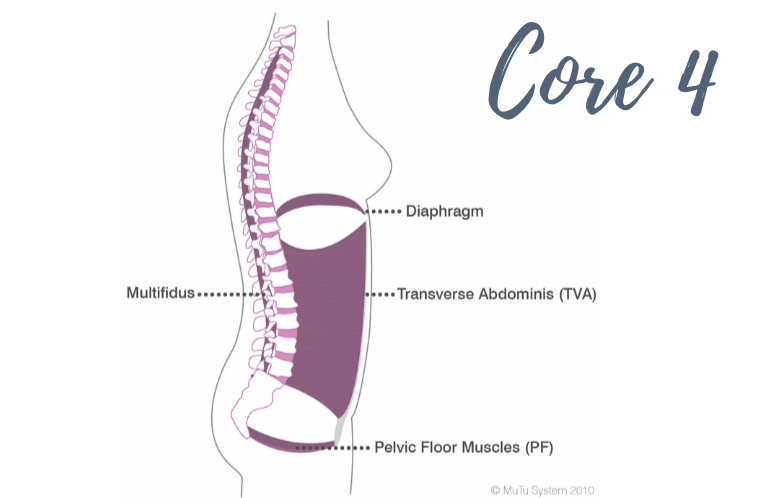 Pelvic Health has recently become a hot topic with more and more research being developed on the subject and the knowledge that no one has to live with Pelvic Floor Dysfunction.

⦁ Leaking when you laugh, sneeze, cough or jump
⦁ Pain with intercourse
⦁ The feeling of pain, pressure or heaviness in your pelvic region
⦁ Diastasis Recti, Pelvic and Lower Back Pain, Pelvic Organ Prolapse, and more

These are just some of the symptoms and can be triggered when the Core 4 are either weak or too tense. Many women chalk up these feelings as coming with the territory of having children, their age or being an athlete - this is a MYTH. Pelvic Floor Dysfunction can happen to anyone... regardless of age or gender.

Pelvic Health can affect the entire body - 78% of back pain is related to Pelvic Floor Disfunction. Pelvic Floor Disfunction doesn't just consist of the Pelvic Floor itself, but what is known as the Core 4 (see diagram); all four of these muscles need to be working optimally and some of the best tools are movement and breath.
Alison Huang of UCSF School of Medicine performed a study that showed a 70% reduction of urine leakage (a common effect of Pelvic Floor Dysfunction) in participants after a 6 week Yoga for Pelvic Health Series.


"As a Personal Trainer and Registered Yoga Teacher, I work with women from all walks of life including pregnant, current moms, and specialized training in managing and preventing symptoms of Core and Pelvic Floor Dysfunction, who are looking for a body-positive, sustainable approach to becoming their strongest selves. Offering Personal Training & One-on-One Yoga in person and online, as well as Small Group Classes in London, Ontario to provide a more personalized approach to your health and fitness needs."