Hybrid
Coaching
Let's Work Together in Lambeth, London, ON or Online Core & Pelvic Floor Specialist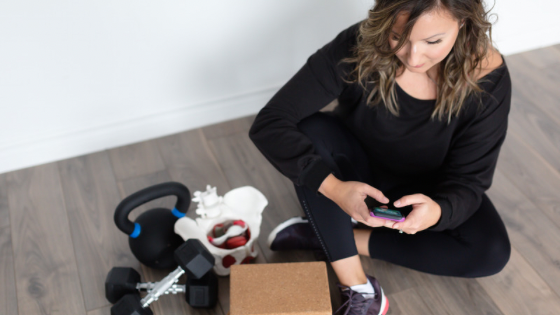 The cost of personal training isn't in the cards for you, and you're a do it yourself kind of person anyway, but you want that personalized touch. That's where the Body Mind Fitness Hybrid Program comes in.
The hybrid program at Body Mind Fitness isn't your traditional personal training, but it takes all the best parts of personal training so you can get to your goals faster than going at it on your own:
a customized plan

accountability

support
Hybrid Training's a wee bit different.
You still get your customized plan. We still chat about your goals, and needs. Except we get together 1-2 /month where we go over your routine, work on technique, and strategies that'll help you out along the way.
Here's the exciting part, this program is then delivered to you through an App that you can take with you to your local gym or down to your basement home gym. It's like having me in your back pockets. We can schedule in your workouts (so you get reminders straight to your phone), I'll check in with you once a week to see how things are going, and you have the option of 2x 15minute Zoom calls, in case you need a new exercise before we see each other next, or anything else you need to chat about.
Train with me at a fraction of the cost!
The Hybrid option allows you to work with me at a fraction of what it would costs in a traditional personal training setting. Helping you reach your fitness goals more efficiently than going at it on your own. All you need is access to equipment, wether that's at home or in a gym setting.
I created this program, because I've seen the results women get when they have a program customized specifically to their own unique goals and needs when they work with a trainer. But I also understand that Personal Training isn't always accessible, whether it's getting to your trainer on a regular basis, or cost.
The program provides flexibility to accommodate all lifestyles, workout preferences and individual fitness levels.
We all know fitness is important, we all know that nutrition is key to feeling good in your body, but what makes people stick to it? Accountability.